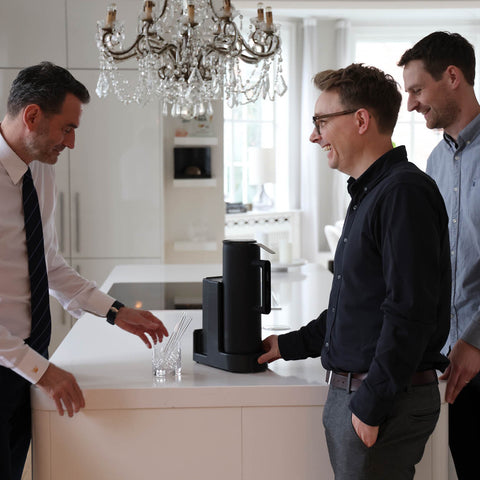 Wibe got the lions off their seats in the 5th episode of Løvens Hule (the Danish counterpart to Dragon's Den / Shark Tank)
In the 5th episode of Løvens Hule, the two engineers, Kenneth Rueskov Møller and Jesper Gørløv Bugge, could welcome Jesper Buch to Wibe For Good. In just two years, Kenneth and Jesper have developed the world's first and only straw cleaner, which cleans straws based on ultrasound technology.

Jesper Buch and his longtime partner Morten Larsen, who together invest in promising companies in Løvens Hule, will now be part of that development. In the latest episode, they secured 10% of Wibe For Good at a valuation of 5 million.
"This is entrepreneurship at the highest level" says Jesper Buch
Business angel and serial entrepreneur, Jesper Buch could go home after tonight's program of Løvens Hule with an investment of a whopping 10% in the engineering company Wibe For Good. A case that got several of the lions out of their seats, and which all showed interest in the ground-breaking product. The two engineers, Kenneth and Jesper, have invented and developed a machine that cleans straws using well-documented ultrasound technology, known from the pharmaceutical and dental industries. "The machine was developed and produced in Denmark, two patents have been applied for and the two engineers have documented the cleaning effect after a collaboration with the Technological Institute — this is top-notch entrepreneurship," says Jesper Buch. The machine must help solve the problem of single use, and minimize the huge amount of disposable straws that are thrown into the bin every day. Wibe For Good can thus offer the industry an exclusive alternative to the disposable solutions that are already on the market today.
The objective of the investment is now to boost sales even more by spreading awareness of Wibe For Good, both in Denmark, but also worldwide
The two entrepreneurs themselves have ambitions to power the European export markets, which also demand better solutions for their thirsty guests. "Wibe is a fantastic opportunity to be at the forefront and help an industry that needs to do away with the cardboard straw and the many other disposable solutions that detract from the experience of the drinks", says Jesper Buch.

The EU ban on the use of single-use plastic, which came into force on 3 July 2021, has forced the HoReCa sector in particular to look for other solutions for its thirsty guests, but "the ban will not affect the single-use consumption we have today" , says Kenneth Rueskov Møller. "It is still possible to replace disposable plastic straws with other disposable products - cardboard, for example, but the solution is not that we just keep throwing them away. It is not plastic that is a problem in itself", continues Kenneth. "It's that we continue to produce products that are only used once, and we would like to help solve that problem. With our stylish glass straws and plug'n'play Straw Cleaner, we offer a durable alternative that creates visibility and is easy to implement in most hotels, restaurants and cafes, while also saving them a lot of waste."
Glass straws are not ground-breaking, but the technology behind the way they are cleaned is, and that is exactly what makes the machine interesting for the HoReCa sector in particular
Wibe For Good's Straw Cleaner guarantees, with just a single push of a button, clinical cleaning of both the inside and outside. A problem that the dishwasher, for example, has not been able to solve. "We hope that Wibe For Good can help pave the way for the experience industry with a solution that is easy to handle in practice and that pushes both our preferences and consumption habits," says Kenneth Rueskov Møller.

Even before the program, Wibe For Good kicked in the door for, among other things, Sticks'n'Sushi and several restaurants, bistros and hotels such as Marriott, Skt. Petri and Nimb. The ability to sell cold canvas was also what impressed and impressed Jesper Buch. "The fact that the two engineers have both been able to invent and develop a new technological product that solves a problem that we all know and have an opinion about is great, but that they have also been able to sell it to the restaurant industry is really impressive," says Jesper Buch. With a consumption in Denmark of as much as DKK 300 million. straws annually, the potential for the recycling solution is to be seen, and the lion Jesper Buch did not take long to see that potential.
Presslink